The elementary and junior high students in Pacitan are taking a study tour in Bukit Tejo coffee field in Pacitan. (PHOTO: Wahyu Deni S/TIMES Indonesia)
TIMESMALAYSIA, PACITAN – There are various tourism destinations in Pacitan, such as beaches and rivers. Currently, there is a new tourism destination in Pacitan, Bukit Tejo coffee field.
Bukit Tejo is located in Gembuk Village, Kebonagung sub-district, Pacitan. This place is managed by the local government.
"This region is famous for its coffee, Kopi Tejo. The coffee production is managed by the locals," said Nugroho Eko Prabowo, the Village Head of Gembuk Village.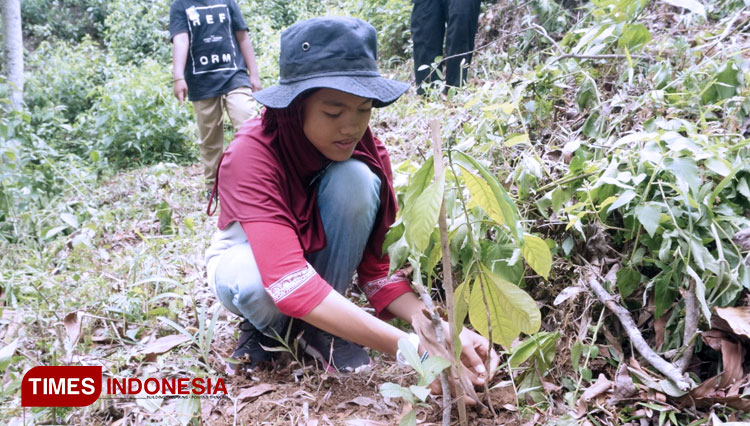 According to Nugroho, Tejo means 'rise' or 'born' in Javanese. However, the locals often mention Tejo as the abbreviation of 'Tempat Jodoh' (the place to find your soulmate) as a joke.
Atop Bukit Tejo, there is a stretch of land that can be used for outdoor activities, such as hiking, outbound, or camping. That's why, this place is very suitable for edu-tourism.
"The visitors can stroll around the coffee field and watch the process of coffee production," said Muhammad Khairul Umam from Komunitas Sintesis Pacitan.
His community is cooperating with Kanca Ngalas Pacitan to invite groups of elementary and junior high students to visit Bukit Tejo. This activity is also aimed to introduce Bukit Tejo as an edu-tourism destination in Pacitan.
"We expect that the villages in Pacitan will be able to explore its tourism potential," said Umam.
According to Umam, the tourism destinations in the villages can support the local economy. He also expected that there will be more edu-tourism destinations in Pacitan. (*)
Editor
: Tiara Dewanti Djiwandono
Publisher
: Lucky Setyo Hendrawan